Features of Notes Contacts to Outlook Express Tool

Notes Contacts to Outlook Express
The Software exports multiple contacts from names.nsf file of Lotus Notes to Outlook Express Address Book. It converts all Notes contacts along with its linked details.Also it converts email addresses and contacts numbers stored in Notes contacts file in bulk.

Convert Contacts to CSV
Notes contacts to Outlook Express tool converts all contacts into CSV file format. It create OE-contacts.csv file after conversion in which all contacts fields get stored in rows and columns and data in cells. This CSV file further can be imported into Outlook Express easily.

Scan and Preview
After adding names.nsf file, the tool automatically scans the file and loads all the contacts with its associated details as scanning procedure ends. It immediately generates preview of contacts via which user can view the Business, Personal, Advance, and Briefcase info of contacts.

Migrate Selective Data
The tool provides option to migrate selective data from Lotus Notes Contacts to Outlook Web Address Book. It can be done by selecting or deselecting the contacts fields and checked fields get exported into a CSV file after conversion. The Software exports all contacts data by default.

Sort Contacts in Alphabetic Order
As the scanning process ends, the Software list all the contacts in alphabetic order. It benefits the user to find out any specific contacts easily. By clicking on each alphabet from A to Z it displays the details of all listed contacts stored in it.

Simple Interface to Use
Notes contacts to Outlook Express conversion tool comprise of simple interface which can be easily understood without any technical guidance. It exports all contacts into CSV file which user can import into Outlook Express without any problem.
Uniqueness of Our Software
Notes Contacts to Outlook Express is a feature-rich Notes Address Book Conversion software to convert Lotus Notes contacts to Outlook Express WAB file. Software offers following advanced features:
Convert Lotus Notes address book to a CSV file.
Convert Notes Address Book to Outlook Express including all info like Personal, Business, Advance & Briefcase.
Convert innumerable contacts stored in Notes Address Book regardless of its size.
Scan, Load and Preview the contacts of Names.nsf file with its associated details automatically.
Create OE-contacts.csv file after conversion which can be imported into Outlook Express easily.
Preserve the originality of all contacts data after conversion without losing any info.
Easy & simple user Interface which can be executed without any technical support.
Support Lotus Notes 9.0 and all its prior versions.
Watch Product Working Video to Convert Notes Contacts to Outlook Express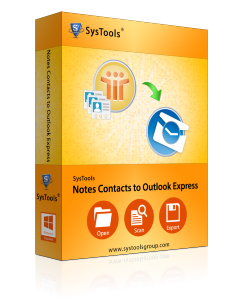 Size: 3.3 MB Version:3.0

Download Demo of Product
Free Trial Limitations
Try Notes Contacts to Outlook Express using DEMO version of the software. DEMO Version of Notes Contacts to Outlook Express allows you to convert only 15 contacts.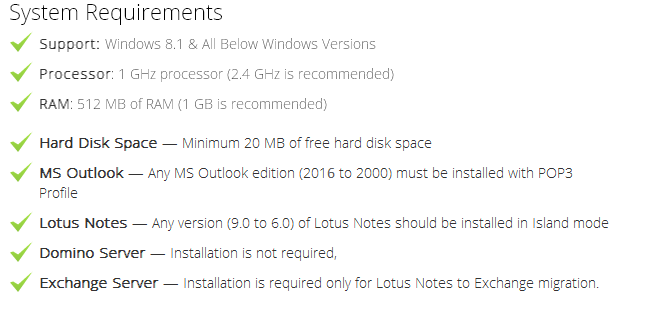 Some FAQ's
What is the process to Import CSV file into Outlook Express?
To import CSV file into CSV follow the below stated steps :
Install Outlook Express.
Click on File » Import » other Address Book
Now choose Text File (Comma Separated Values) option.
And click on Import.
And Click on Browse and choose CSV file to import.
After that Click on Next
Change the Text Field and Address Book Field mapping or leave it as it is.
Click on Finish.
And you can view CSV file comprise of converted contacts into Outlook Express
Can I execute this Software without having Lotus Notes installed on my machine?
No, the installation and proper configuration of Lotus Notes is must on a conversion machine to execute this Software.
Which version of Lotus Notes this Software support?
Lotus Notes Contact to Outlook software can be executed using IBM Notes 9.0 and all its former versions.
How many numbers of contacts can this tool convert from Notes Address Book at a time?
The Software, can convert any number of contacts stored in names.nsf file of IBM Notes regardless of its data size in a single time.
Is the installation of Outlook Express necessary to use this tool?
The tool converts all contacts found in names.nsf file into CSV format without having Outlook Express installed on conversion machine. To import resulted CSV file, Outlook Express is required to view the converted contacts.
Our Customer Views
Thank you so much for creating Notes to Outlook Express software. I was able to convert more than 400 contacts from Lotus Notes to Outlook Express within short time.
Piter Porker, Canada
I have tested your Lotus Notes to Outlook Express software and it is simply FANTASTIC!!! Worked perfectly. Quick and safe!!! Congratulations
Danial Watson, Los Angeles
Notes Contacts to Outlook Software aids me a lot in converting my hundreds of Notes Contacts while switching my job. It creates CSV file after conversion which I Import into Outlook Express simply and stored all my contacts. Thank you
Brian Davidson, Ukraine
I convey my gratitude to the development team of this Tool. As they have done the commendable task in designing the features of this Software which can be understood and executed by a Non tech person effortlessly.
Jenifer Hayden, Australia