Key Features of Split PST Software

Retreive SharePoint Data
The software allows you to repair the SharePoint .mdf files from corruption issues caused due to virus attack, trojan infection etc.

Generate Scan Report
The software scans the entire database to recover the SharePoint Data. During the process , a scan report can be generated that shows MDF file datails like Pages Read , database version , database name , table count , functions.

Perform Quick Scan
The tool allows you to perform a quick scan of the damaged SharePoint .mdf files. You can preview all the listed items with their associated attributes.

Resolve Error Messages
The software is able to resolve any type of the error mesages that comes up while accessing the SharePoint database.

Export Database and Documnets
After the recovery process is complete , the SharePoint datbase can be exported in two different outputs:
Save in SQL Server Database: The recovered database can be exported directly in the SQL Server.
Extract Sharepoint Documnets:All the SharePoint documents can be saved in a new .mdf file.

Select Items to Export
The software allows you to select specific items from the database that you want to export.Thus it becomes easy to save only the important data rather than saving the entire data.
Pecularities of SharePoint Document Recovery Software
Best SharePoint Document Recovery Software
A great SharePoint document recovery tool that will help you restore SharePoint documents in almost all SharePoint database corruption cases.
SharePoint Server is an integrated application consisting of various products and software elements.This Microsoft Office SharePoint Server (MOSS) is a shared portal application based on Windows SharePoint Services (WSS) platform. This great application is primarily used to host websites that have shared workspace, documents, content databases, lists, document libraries etc. The information of SharePoint databases is saved in SQL MDF database files.
How to Recover SharePoint documents after database corruption? Corruption and damage in all the computer applications is something very common and frequent. If your SharePoint database has got corrupted, then SharePoint recovery tool of can help you recover SharePoint documents easily & effortlessly.
SharePoint document recovery tool – recovers database contents in Almost All Corruption Cases: Our software can perform SharePoint document recovery in almost all the cases of corruption. Some of these corruption causes are as follows:
Deletion of Log file
Database in "suspected" mode
Incorrect String to multi-client database with users
Copying or accessing your MDF files while database is running
Virus attack or Trojan infection on the system affecting MDF files
Disk space does not free when you are working on the Server database
Step by Step Conversion
Step 1: Initial Screen of SharePoint Document Recovery Software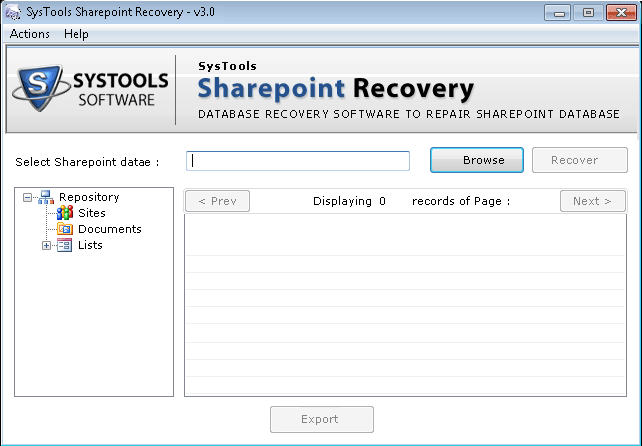 Step 2: Click on Recover button and recover Corrupt MDF File.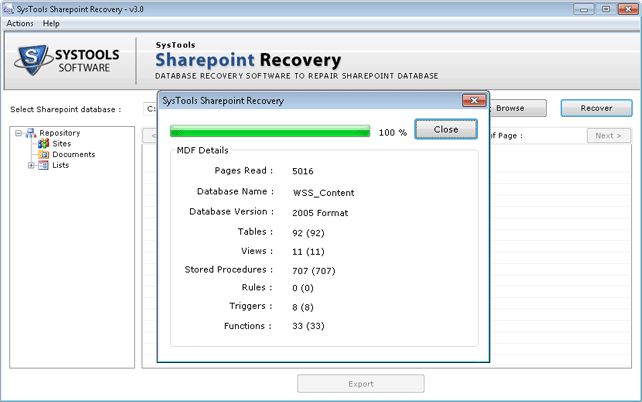 Step 3: Preview all the documents of the repaired MDF File.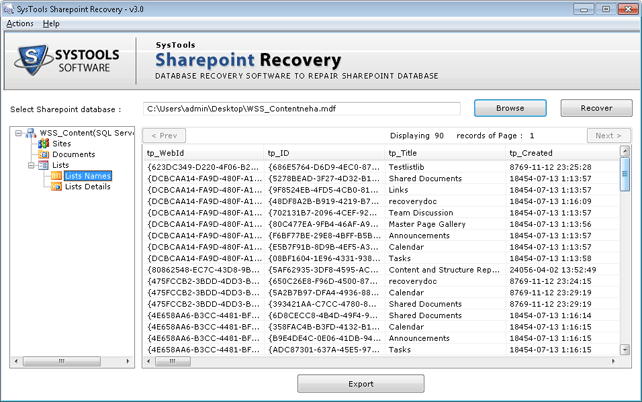 Step 4:Click on Export button to export the recovered SharePoint Database.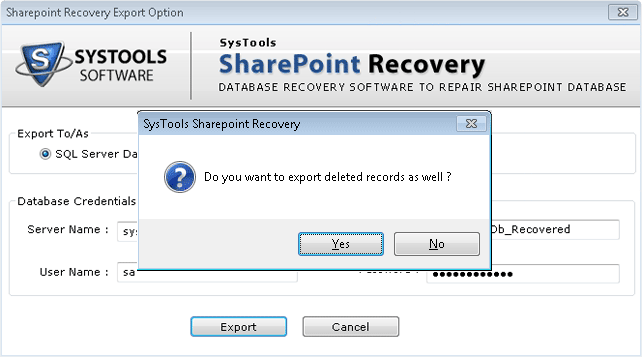 Watch Product Working Video for Sharepoint Recovery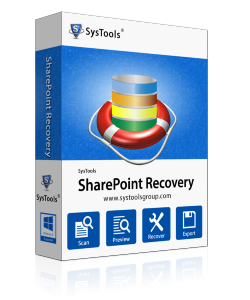 Size: 2.1 MB Version: 3.0

Free Demo Limit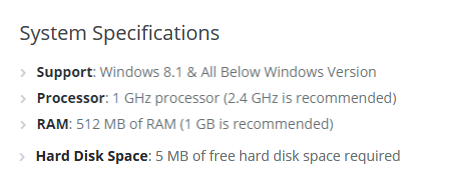 Some User's Queries
Is there any size limitation on the SharePoint Database ?
No , there is no limnitation on the size of the SharePoint Database.
Customer View
The performance and the properties of this tool are worth appreciation. I was able to recover my entire SharePoint Database with less efforts made and in less time.
Josh Radnor, Melbourne
I was so impressed with the demo version of the tool that I immediately made a purchase of the full version to avail the full features of this great tool. I was able to retreive documents from my SharePoint Database easily.
Jason Harris, Sweden