Features of Lotus Notes NSF to EML Converter Tool

Export Lotus Notes NSF to EML
Users can use converted .eml file, After convert Lotus Notes emails into Outlook Express EML format using Drag and Drop method. Get all associated attachments and Meta into EML.

Export Selected NSF Mail Folder
Software allow users to convert selected mail folder of Lotus Notes to Outlook Express to perform on-demand email conversion. Check or uncheck the desired folder while migration process.

Holds Data Integrity
NSF to EML tool is capable to holds the original integrity of Lotus Notes database. No modification or deletion on the important details. Manage the links, inline images, graphics and attachments.

Similar Mail Folder Structure
Software maintains similar mail folder structure while saving Lotus Notes emails as .eml file to Local machine. With no change in folder sequence tool convert Lotus Notes mails to EML file format.

Easy User Interface
Software has simple user interface and do not require any technical experience. Even non technical user can easily operate the tool itself as entire process is implemented with easy instructions.

Scanning & Preview
After loading the desired NSF file in software, it start the scanning of data and extract all the information of Lotus Notes file. Product also generates the preview of all scanned items in tool window.
Why Choose Lotus Notes to Outlook Express
Complete Conversion of Lotus Notes Emails of Inbox, Outbox, Sent Items, Draft to EML format
Preserve the Meta Properties and Attached Images of Emails as Well
Maintain the Same Folder Structure of Lotus Notes after Migration
Synchronize all the fields and data content of Lotus Notes file and generate preview with all scanned attributes
No File size limitation- Software is capable to convert .nsf mails to .eml in bulk
Holds the crucial information as well as manage the inline images and HTML formatting of mails
Offers Fast and unfailing conversion of Lotus Notes emails into EML file format
How Software Works- Watch Video?
or
Watch Product Working Video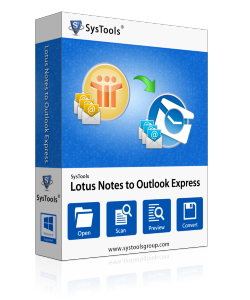 Size: 3.6 MB Version:3.0

Free Trial Info of Product
Evaluation Edition:
DEMO Version of Product allows you to convert only 15 Lotus Notes emails to Outlook Express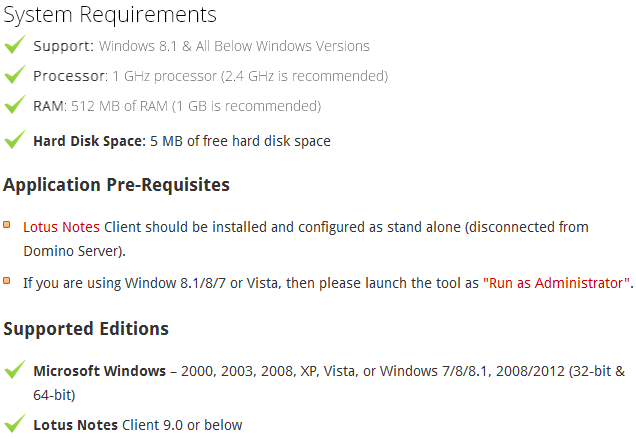 User's Commonly Asked Question
Is software able to convert emails of corrupted NSF file?
No, software does not support to extract and convert corrupted NSF emails into EML file format. Software require healthy NSF file with all admin rights.
Is any specific edition of Lotus Notes is supported by software?
No, Software is designed to convert entire data from all Lotus Notes client editions.
Is Outlook Express mail client is necessary to use the product?
No, Software does not require any installation of Outlook Express; users can use the app without Outlook Express as EML file is supported by other clients also.
Is any limitation in Lotus Notes NSF emails conversion into EML?
No, users can browse one NSF file at a time, the targeted NSF file having unlimited mails can easily converted into EML file format.
How much time does software takes to convert data into EML?
Software offers result in EML format in a very less time, it gives 100% accurate result within short period of time.
Client's Testimonials
I would like to appreciate the working of Lotus Notes to Outlook Express converter tool as this has helped me to migrate 250 emails as EML files without consuming much time. All data is in its original form without a bit of data loss. Keep it up guys!
John, Hungry
What I like most about tool is its interface; there are self-illustrative steps to carry out NSF to EML conversion process. I am new to technical industry and having lots of doubt in my mind regarding working of tool. But soon after using demo version I have purchased the tool.
Dukely, France
I have need of shifting only inbox emails from Lotus Notes NSF file into eml format to present them in court as evidence for my case. My dream has come true using Lotus Notes to EML converter tool, selective folder export is provided for users.
Bread Lisa, Denmark
I have tried several third party tools but the results obtained by Lotus Notes to EML converter tool are just unbeatable. All the emails are saved in EML format are in original formatting, integrity and hierarchy they exist in Lotus Notes NSF file format.
Megan Jackson, Saints Petersburg