What is busytime.nsf in Lotus Notes?
---
Busytime.nsf is also called Free Time Database as all of the connected users scheduling information is holded by this file. It provides the information about free time of the users which can be used in arranging meetings. If this free time information of users is known, then it becomes easy to schedule the meeting between users.
What is the Default Location of Busytime.nsf file?
---
This file can be easily located on following path:C:\Program Files IBM\Notes\Data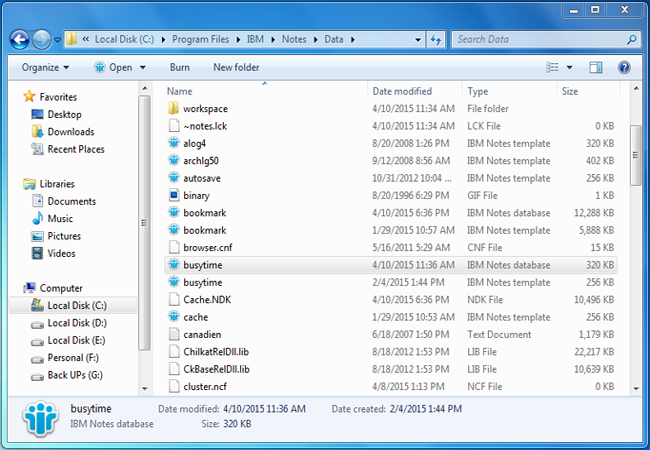 What are the advantages of Lotus Notes Busytime Database?
When the Lotus Notes users drop any meeting invitation to other users, at that time Free Time system of that particular user activate instantly which searches the details about free time and returns available users information.
If user has provided all information about appointments in their Calendar, then the schedule manager gathers all the essential information and update the Free time database spontaneously.
How does Busytime.nsf created?
---
After deploying the IBM Notes and Domino sever for the first time:
For non-clustered mail server, the schedule manager generates the busytime.nsf database instantly and also make entry in the file for users who have their information in the Calendar or whom having any Mail file are on the same server.
The schedule manager also creates the clubusy.nsf file for clustered mail server and stores the information Notes user free time.
How to Rebuild Busytime.nsf?
---
If your busytime database is corrupted, then a better way to rebuild it again is to first shut down the server and delete the busytime.nsf file and let the server to rebuild this. For clustered setup, you will have to shut down the servers from your cluster and then delete the clubusy.nsf database.
A different method which do not require server rebooting:
calconn, sched and rnrmgr tasks need to be shutdown.
All documents should be deleted from the busytime.nsf or clubusy.nsf databases or after a "dbcache flush" just delete the Database
calconn, sched and rnrmgr tasks should be restarted.
Instead of reopening the tasks, from the console "tell sched validate" and also tell renrng validate.
Conclusion:
---
Busytime.nsf is a lotus notes database which provides the information about the users availability for scheduling any meetings between them. In this article, we have discussed about the free time database and how it updates the busytime nsf file. Also know how to rebuild it and the benefits of IBM Notes Free Busytime.nsf database.
Tricky Tip:
If you find difficult to tackle with IBM Notes complications, its better to switch to another platform. In that case, Outlook is much reliable email client than others. NSF to PST converter is very helpful to move on other platform.