What is Lotus Notes names.nsf File?
---
All the contact entries gets stored in a contacts file of Lotus notes and it is named as names.nsf file. This names.nsf file is created automatically in Notes Directory. While messaging a person on some address, Lotus Notes go to the contact file i.e names.nsf file to look for that persons email address.
In spite of using this default contact file,a user can create a new contact file to use or an additional contact file can be created. In that case, Lotus Notes will explore all the contact files for an email address. But in case, it didn't find that email, Lotus Notes will search in Domino directory of home server.
Lotus Notes names.nsf file location
---
The default location of Notes names.nsf file is: C:\Program Files\IBM\Notes\Data\names.nsf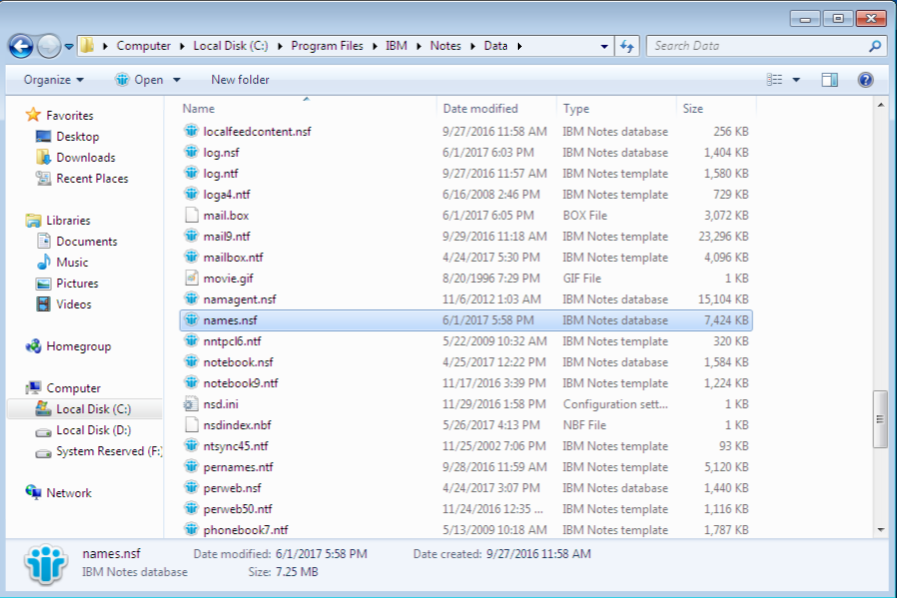 What information is stored in names.nsf file ?
---
Address Book in Lotus Notes or names.nsf file gets created at both places i.e on Notes Client and Domino server directory both. It stores all the contacts which are added in Contacts lists or which was used to send messages or the addresses received by recipients.
How to create Names.nsf File in IBM Lotus Notes?
---
A new names.nsf can be created just like any another Notes application by using personal address book template i.e pernames.ntf file. You can name the new created contacts files of some variations like names2.nsf so that all contact files in data directory will remain together.
How to Delete Lotus Notes Names.nsf file?
---
User can delete names.nsf file just like any other file but there must remain atleast one contacts file otherwise Lotus Notes will not run. If there is a single names.nsf file in your data directory then never delete it.
Changing Names.nsf file in Lotus Notes
---
Contacts files of Lotus notes can be changed to find e-mail addresses or even the more than one contacts files.
From the menu, click on File > References
Click on mail > Sending & Receiving
On Local contacts sections, do any of the following action:

For changing it to another file − firstly delete the contacts files which are existing, then click on Browse to name of contact file you wish to use.

For adding a new additional contacts files − click Browse to choose or select the file you wish to add to the list. You can repeat the same method adding more files.

Further, if the user is using Lotus Domino Web Access Mail Client and Lotus Notes Client both then by synchronizing contacts from Notes Client ensures that the both lists of contacts are same.

Click on OK button and exit from Lotus Notes to restart it.
How to Synchronize Lotus Notes Contacts?
---
Lotus Notes Contacts file stored as a names.nsf file in data directory i.e on our local machine. But we can store a copy of contacts in our mail file. You will need to synchronize the two files the one on your local machine with the copy which reside on mail.
Why there is a need of syncing Contacts?
There may be a situation when you will want someone other to manage your contacts, obviously you will give him the copy store on your mail file. Synchronization is needed to ensure that they have the most updated information.
How to Enable Synchronize Contacts in Lotus Notes?
To get synchronizing your contacts files, you will have to set Contacts to preference which enables the synchronization of contacts of Lotus Notes.
Go to File and click on Preferences.
Click on Contacts
Select the option Enable Synchronize contacts on Replication
Click OK button
How to synchronize contacts in Replication page?
Click on Open and hit replication.
Ensure that the Synchronize contacts are enabled
Click on Start now.
Error: unable to open names and address book names.nsf
---
Why does it occur?
As you know default name of contact file is names.nsf. You tried to open IBM Notes when contact file names.nsf was stated in "Local address books" field on the dialog box of Mail page User Preferences. Or in case you are using Notes away from your premises and may have chosen File> Mobile> Call server or executed some command which causes Lotus Notes to check Contacts files for server connection.
Solution:
Check in your operating system to view names.nsf still exists and get renamed or moved to any different directory from the previous one which existed.
If it exists and users do not have a backup of names.nsf file on other computer notes. Users can create a new address book using contact templates i.e personal address book(pernames.ntf) by using File > Application > New . And now will be able to move the file to a computer where the message is seen.
Conclusion:
---
In above article, we tried to cover most of the queries and information related to Lotus Notes Address Book and its database file names.nsf file. We have also stated above the errors occur due to names.nsf file and synchronization between two contacts files and importance of names.nsf file in IBM Domino Lotus Notes.
Knowledge fact:
Although Lotus Notes have many such features which makes it unique and reliable for business uses but most of the email users find out Outlook much convenient. For Notes users who wish to discontinue with this application and want to opt for Outlook will have to go through NSF to PST conversion. This conversion will let you move Notes data into MS Outlook.