What is IBM Notes User ID File?
---
User ID is a file that Lotus Notes Admin creates which contains the useful credentials which the Lotus Notes uses to identify the valid users. Every user must have the user id to login to IBM Lotus Notes. User id is a gateway to enter IBM Notes. Lotus Notes is famous for its security features which is provided in user.id file. As you know user id acts as your identification so it must be kept in safe place.
User.id Default Location
---
Default Location of Lotus Notes User ID File is: C:\Program Files IBM\Notes\Data Directory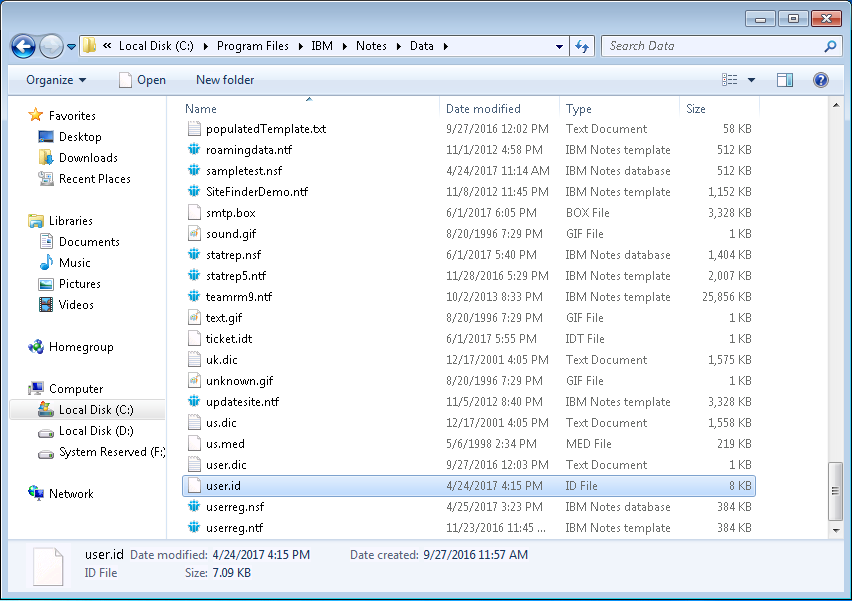 Which elements does Lotus Notes User ID file stores?
---
User.id file contains the several following information to authenticate any user data which is stored in Lotus and Domino environment.
Client's username and password
Encryption keys information
Private and Public key
License number of Notes
Certified users certificate information
Recovery info of ID file
How to Lock Notes ID to secure data?
---
Think about the situation when you are away from your computer by logging through your id, it may happen that during that time someone may come there and entered to your database. So in that case you will need to lock the lotus notes id file. By locking ID it clears all the credentials and drops all connection from servers As locking your ID prevents others from using when you are not there.
Look How to set Lock on Lotus Notes ID:
Go to File>Security>User Security
Click on Security Basics option.
Select Automatically Lock my Notes ID after 90 minutes in Logout settings and also enter the number of minutes for its inactivity before Lotus Notes locks your ID
Switching IBM Notes user.id File
---
If a computer have more than one users then it must have more than one user id. To access your own mail server and other databases, there will be need to switch to specific user id. User ID file must be saved locally on your computer, on server or any removable media or from where it is accessed so that you can carry on switching user id process.
Look Steps to Switch UserID in Notes
Go to File>Security>User Security
Browse the path of User ID or choose the user ID on which you are switching to.
Give the password of User ID.
Recover Lotus Notes User.id File
---
In case you lose your User ID, or it gets damaged or you forgot your password and you have not use an ID vault, in this situation you can recover ID only if admin have set up recovery information for you. User.id file contains recovery information only if "Mail Recovery ID" option is enabled in the security basics panel of the User security dialogue box.
If all set up have been done for recovery information of your user ID, and click directly on "To recover your User ID". If you have not set up recovery information, then you need to set it up before user.id file recovery.
Notes User ID File Creation
---
ID file is uses by Lotus Domino server to identify users and to access controls to servers. Domino server creates user id file while registering users and servers.
When any user is registered by Lotus Domino Administrator on the Lotus Domino server, the user ID file is:
Added to the users person document
Saved and stored at the exact path of the system which was specifies at the time user creation
Uploaded to the ID vault
Recertify Lotus Notes Expired User ID file
---
When the end date of user ID file has been expired and we perform the following action:
File -> Tools -> User ID -> Certificate -> Request Certificate
It will display the following message:

Follow the steps performed by server administrator to fix users expired ID:
On obtaining user ID, start Lotus Domino Administrator client.
From configuration tab, open certification and select certify.
Choose the certifier ID file.
Select O or OU certifier from the choose certifier id dialog box which was originally used to certify user ID.
provide the password for the selected user id.
From Choose User ID to certify dialog box select the user ID need to be recertified.
Set the password for user id to be recertified
Click verify
A status window will display following message:

Deleting Certificates from Notes user.id file
---
User can easily delete Internet certificates and flat certificates from user.id file. During this action, IBM Lotus Notes retains all the appropriate keys to decrypt the Notes data which was encrypted along with those certificates.
Perform the following steps to delete user.id certificates:
Go to File -> Security -> User Security
Click on Your identity and then select Your Certificates
Choose All Certificates from drop down list menu
Choose the certificate you want to delete and click Other Actions and Select Delete from ID file from the right side of dialog box.
Conclusion:
---
In this article, we have discussed all about Lotus Notes user.id file in brief. We have stated here the importance of notes user ID file and the various actions which can be performed with this user.id file.
Do you know?
Users are facing many problems while deploying IBM Notes and search for an easy Email application. According to an online survey, we have found that MS Outlook is most trending email client. For a Notes user, they need to convert nsf file to pst which is compatible in Outlook.