Key Features of Exchange Export

Export Multiple Exchange Mailboxes to PST Format
The software allows you to export multiple mailboxes from the Exchange Server to the Outlook PST format. The original properties and Meta properties of the mailbox are retained after conversion.

Load Active Directory Automatically
The software is able to auto detect the active directory and load it as you click on the export. The entre Active Directory and Exchange Server details become visible.

Select Mailbox and items to be exported
Using the Active Directory Server , you can select the mailboxes you wan to export. On the export option window , you can select the items you want to move like : emails , contacts, calendars , tasks , notes and export them.

Outlook required to Export Mailboxes
The installation of Outlook (any versions) is required to export or move exchnage mailbox to PST format.

Export Dismounted Mailboxes
Any type of mailboxes like enabled , disabled , connected or disconnected can be extracted using the Exchange Export Tool.

Delete Emails after Migration
After the migration is completed , the emails can be permanently deleted from the server in order to remove the data from the server which has been already backed up in form MSOutlook PST.
Pecularities of Exchange Export
With the help of Exchange Export/Import Wizard, you can convert Exchange mailbox to PST and can also convert PST to Exchange Server.
One Solution – Dual Purpose : Exchange Export/Import Wizard can be used for dual processing. This Exchange mailbox migration wizard tool can be used for two conversion needs as follows:
To Export Exchange mailbox to PST file
To Import PST into Exchange Server
What is Microsoft Exchange Server? MS Exchange Server is an internet compliant multi-features application that can be used for many tasks like emailing, calendaring, contacts storing, etc. Exchange Server runs under Windows Operating System and is collaborated with email clients like MS Outlook, Apple Mail, Entourage and more.
Why You Might Need to Convert Exchange Mailbox to PST File? You must remember one thing that even the most powerful systems can crash and even the most robust applications can corrupt. MS Exchange can also get corrupted and in that scenario, you can lose access to your crucial email data. Below are some common Exchange Server corruption causes:
Server error
Deletion of .edb / .log / .stm file
Logical corruption in Microsoft Exchange Server
Sudden and mistaken deletion of the user mailboxes
Performing of unprotected write back cache operation
Non functioning of Server
These or any other such reason of MS Exchange Server corruption can be put you data at stake. To preserve your emails and other items stored in Exchange mailboxes, you can move Exchange mailbox to PST using Exchange Export/Import Wizard. It is a simple and intuitive Exchange mailbox export tool.
Why You Might Need to Import PST Into Exchange Mailbox? A need can arise where you might want to switch from client/client emailing platform (Microsoft Outlook) to client/Server emailing application (MS Outlook/Exchange Server) for global email management when all your old emails are stored in PST which you want to transfer to Exchange so that you keep accessing them after switch to client/Server application. Exchange Export/Import Wizard software can help you migrate PST to Exchange mailboxes with much ease.
Step by Step Migration
Step 1: Initial Screen of Exchange Export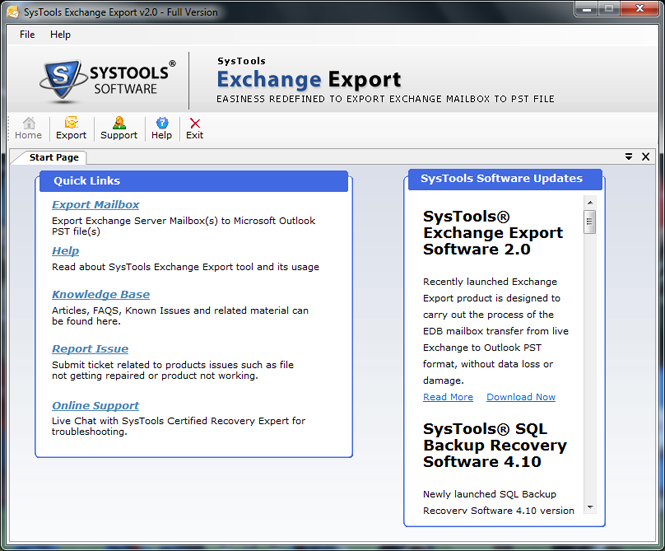 Step 2: Click any of the nodes and view information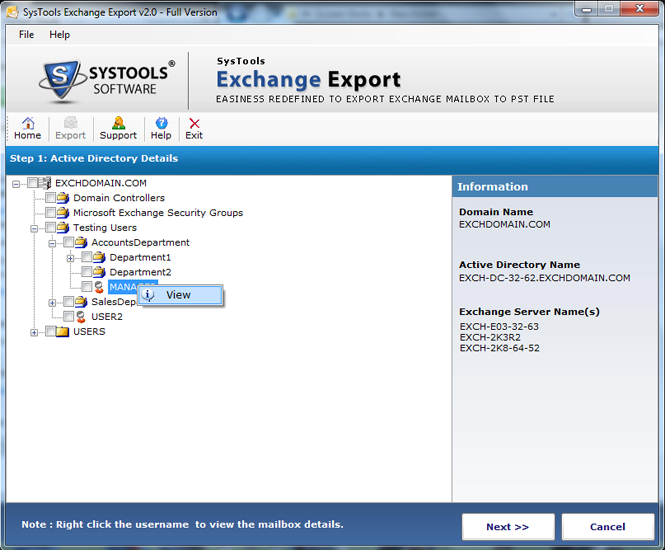 Step 3: Select the criteria to export
Step 4: Export the selected Criteria and click Export.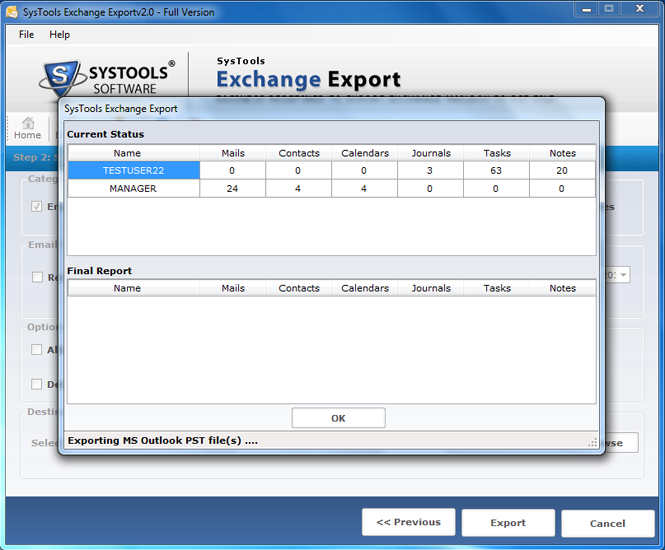 Watch Product Working Video to Export Exchange Mailbox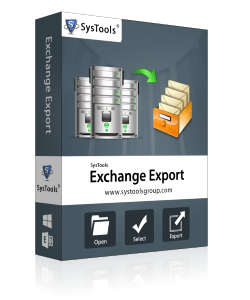 Size: 7.6 MB Version:2.1

Free Demo Limit
Trial Limitations
Exchange Export Demo Version Converts 50 items from 5 mailbox folders to Outlook PST File Format.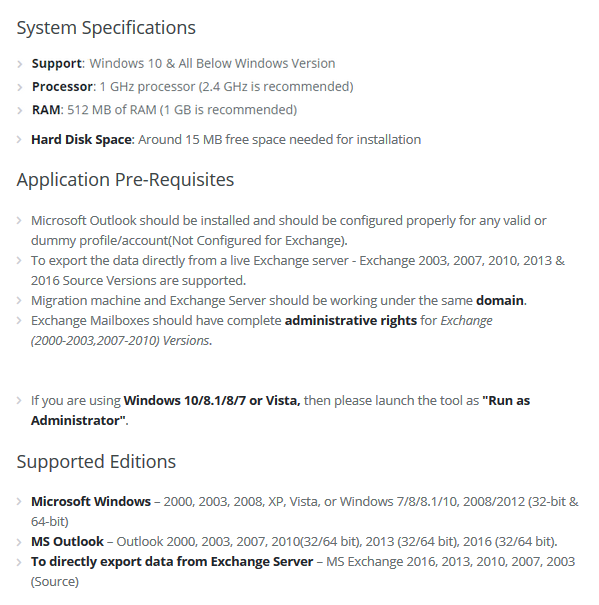 Some User's Queries
Is it required to have MS Outlook Environment to export mailboxes?
MS Outlook needs to be installed on the system and configured with any POP3 profile instead of the Exchange profile.
Do i need to have the administration privileges for exporting the mailboxes?
Yes , full administration privileges are required on the server mailboxes that are to be exported.
Can i export Exchange Public Folder into PST?
No , you can export only the Exchange Mailboxes.
Can i get a export report to verify the execution of the process?
Yes , software will generate a report of the Export Exchange Mailbox to PST Process.
Customer View
The software worked perfectly for me. I was able to export the entire data from my Exchange Mailbox safely to a PST file. I am happy that i decided to buy the product as it has helped me to safeguard all my Exchange Mailbox data.
Steve Balmer, U.K.
At first I tried the one day demo version of the tool but the performance of the software and the ease of the migration process urged me to buy the full version.
Lily Blanc, Norway